Studio: 162 Morrell St., Brantford ON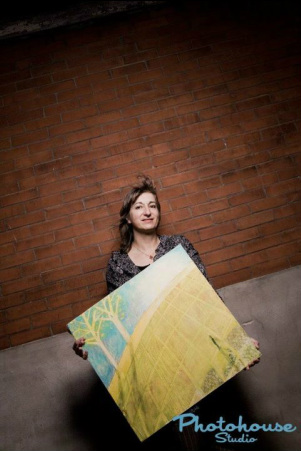 I have a preoccupation with the world and our role in it. I seek to express ideologies and realizations, and bring understanding to struggle and connectivity. I communicate messages about our world, our place in it, and our need to pay attention to certain directions that mankind is taking.
I create with various materials that make their way serendipitously to my studio. Inspiration comes from the mingling of the materials, that have strengths and limitations of their own, I glean inspiration from found objects that I turn into two and three dimensional pieces. I have worked with reclaimed stone, wood, wool, styrofoam, plastic, plexiglass, paper, fabric scraps and wire. I paint on wooden panels with remnants of acrylic paint, plaster and wax and incorporate paper and fabric into the surface. I aim to bring purpose to the discards of our society. The resulting art is rough, and textural.
It is my intent to connect to my audience on a primal level, both through medium and subject.
I work from a studio located in my home in Brantford Ontario. I have worked as an art educator for Learning Through The Arts, Glenhyrst Art Gallery of Brant, St. Leonard Community Services, Brantford Arts Block, and the local School Boards.
You can visit my studio by appointment:
info@alikimikulich.com
Education:

University of Toronto: Bachelor of Arts in Art and Art History
Sheridan College: Degree in Fine Art
Mohawk College: Certificate in Intermediate Ceramics

Exhibitions
Toronto Outdoor Art Exhibition, Toronto ON, 1988
Art Gallery of Mississauga, Juried Show, Mississauga ON, 2004, 2005
Glenhyrst Cottage Gallery, Brantford ON, 2006 and 2007
Brant Cultural Center, Artist of the Month, Paris ON, 2007
Myrtleville House Museum, 2007
Enhance Gallery, North York, ON, 2008
Youme Gallery, Hamilton ON, 2008
Art Gallery of Peel, Juried Show, Brampton ON, 2008
AyrSpace, Winter Show, Ayr ON, 2008
Brantford Arts Block, Group Show, Brantford ON, 2009
Alma Gallery, Bread and Roses, Guelph ON, 2009
Blue Dog, Monthly Artist Series, Brantford ON, 2009, 2013, 2014, 2015, 2016,2017
Station Coffee House Gallery, Solo Show, Brantford ON, 2010
Hamilton Artists Inc., Hamilton Ecofilm and Arts Fest, Featured Artist, 2010
Brantford Arts Block, Finding Common Ground, Group work with Laurier Students and Daniel Hill, Brantford ON, 2010
Glenhyrst Art Gallery of Brant, 2011, and A Bigger Taste of Glenhyrst, 2011 (sculpture garden)
Youme Gallery, The Annual Whirligig Show, 2011, 2012, 2015 (see youtube video below)
Brantford Arts Block, Grand River Forum, Group work with Laurier Students and Heather Vollans, Brantford ON, 2011
Grand River Gallery, Fall Show, Caledonia Ontario 2011
Norfolk Arts Centre, Juried Show, 2012
Brantford Station Gallery, Pathology, Kim DiFrancesco and Aliki Mikulich, 2013 (OAC Exhibition Grant)
Arts Country Gallery, Lighthouse Festival Theatre, Port Dover, 2013 Brant Studio Tour Group Show
Glenhyrst Gallery of Brant, Arts Country Juried Show, 2013
Glenhyrst Gallery of Brant, Town and Country, group show, 2014
Old Town Hall, Waterford, Out Side, solo show, 2014 (OAC Exhibition Grant)
Art Asylum, Brantford, group show, 2015
Awards and Grants

Award of Merit, Art Gallery of Mississauga
People's Choice Award, Art Gallery of Mississauga
Hamilton Eco Film and Arts Fest, Second Place, and Honorable Mention
Ontario Arts Council, Exhibition Grant, November 2009 (Warming up)
Ontario Arts Council, Exhibition Grant, June 2013 (Path-ol-o-gy)
Ontario Arts Council, Exhibition Grant, August 2014 (Out Side)