Work with Schools and Groups
My work with schools, universities and community groups includes a varied number of mediums. The project is always designed and implemented with each group's unique needs and wants in mind. The work is designed to involve all or many of the students or members and provide them with an enriching experience in the creative process, as well as a finished piece to display proudly.



L'ecole Confederation - Recycled project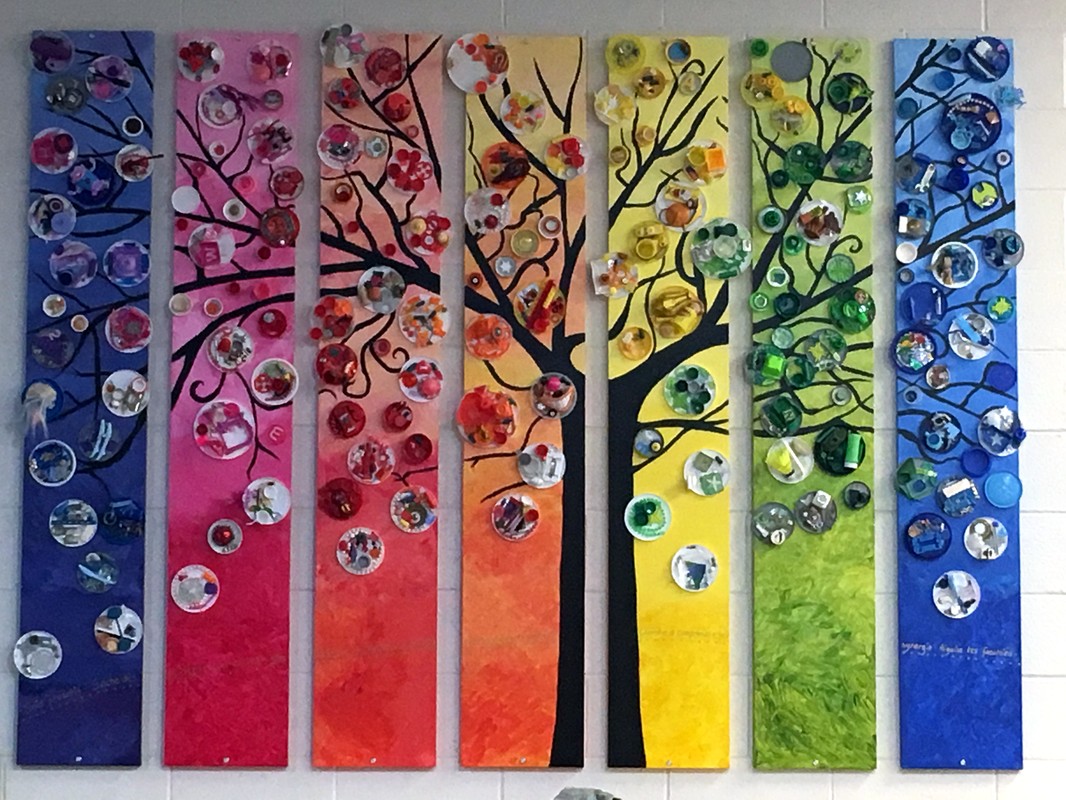 This 7 panel piece hangs in the library. It was created using recyclables which the students brought from home and assembled into colourful groups that comprise the tree leaves. Students from the older grades painted the background and tree. 2016
School project with Walter Gretzky Elementary School, June 2012
This Gryphon sculpture is made almost entirely out of repurposed items (bottle caps, newspaper, pop tabs, cd's). The students in all grades had a hand in constructing it, whether it was bunching up newspaper for the body, hammering bottle caps flat for the beak, or painting the layers of the body - everyone had a turn!

The Gretzky Gryphon now sits proudly atop the entrance doors and greets people from above.

Laurier University - Artist Speaks Series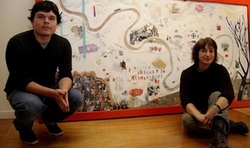 The Artist Speaks Series engages students in various classes in the reading of a text and interpreting it through essays, and in this case, visual art.

The text used in this instance was "If This is Your Land, Where Are Your Stories? Finding Common Ground". Through discussions and presentations, the students found ways to link to their present location, the Grand River in Brantford, by using their ancestral imagery and stories in a collage that depicts the Grand River.

Over the course of 6 weeks, Daniel Hill and I guided the students in artistic expression and interpretation to create this multi dimensional and dynamic piece that is on display at Laurier Brantford.
Laurier Brantford - Artist Speaks Series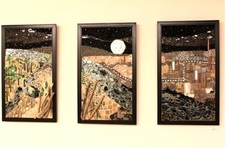 These panels were created in 2011 with a group of students who were responding to the text "Don't Sleep - There are Snakes!". The group learned the art of mosaic from artist Heather Vollans and were guided in their visual interpretations to create these panels that depict the disparity between civilizations on our planet.

Entitled "Under One Sky" the piece hangs at Laurier Brantford.




​Grandview School Reading Nook
A drab corner in the kindergarden room was transformed into a jungle!
Brant Community Garden - Stepping Stones Project
In order to commemorate a successful initiative, members from the community gardens engaged in a one-day workshop to create their own individual stepping stones to adorn their gardens. The pieces each have the Community Garden Logo.
Bellview School Mural project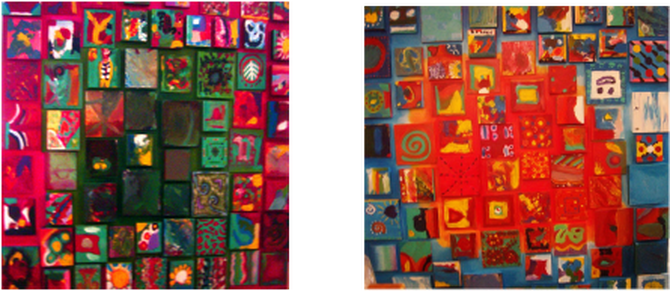 Bellview School Mural Project: The students (grade 1 - 8) each created a small painted piece with acrylic paint. The pieces were then assembled on 4' square panels, and enhanced with backgrounds. They hang proudly in the library.


​L'ecole Dufferin Mural Projects
Dufferin School Murals, Brantford, ON